Prelude Model - $4900 AUD
Backstory
The Prelude model began as a collaborative project between Sachar Amos & Richard Howell guitars.  We designed the guitar as an entry level concert instrument to be made in small batches of 3 instruments at a time to reduce the setup time for tasks and therefore reduce the labour involved. The Prelude is also made from a range of more affordable tone woods to reduce the high end material costs.
The Prelude has proven to be a popular guitar for advanced students & intermediate players who would prefer to play on an handmade entry level concert guitar than a mass produced instrument.
Materials
Back and side materials vary including European maple, Indian rosewood and walnut as well as some alternative tonewoods of excellent quality such as padauk & wenge. Soundboards are European spruce or western red cedar and of excellent grade.
Decoration
Another key feature of the Prelude is the simplicity of its decorations which are simple and modest yet elegant.
Finish
The finish is a light French polish glaze which is best for sound, beatiful and easily repaired.  French polish marks a little easier than other finishes but it is very easy and affordable to maintain.
Design
The body shape is based on a Torres from the 1860's and is a beautiful sounding instrument instrument allowing the player diverse & satisfying expression.  As a point of reference this body size is similar to later guitar makers guitar sizes such as Hauser & Simplicio.
Hardware & accessories
Standard tuners are premium grade Gotoh which are an excellent quality tuner and the case supplied is a quality plywood hard case.
Availability 
The prelude is currently made to order.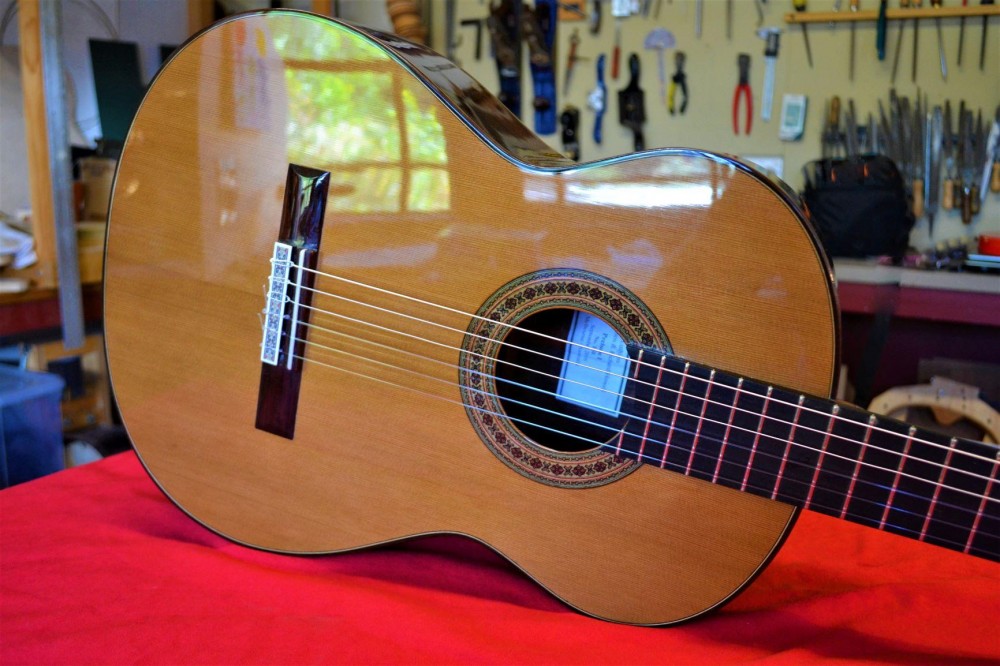 Price:                          $4900 AUD
Soundboard:           Spruce or Cedar
Back & Sides:           European maple/Indian rosewood/padauk/wenge/Walnut
Neck:                           Australian Red Cedar
Fingerboard:            Indian Ebony
Bridge:                        Rosewood
Tuners:                       Gotoh premium
Finish:                         French Polish (light)
Scale Length:                 650 mm
Nut width:                    52 mm
Case supplied:        Quality hard case