Master Model - 'Barcelona'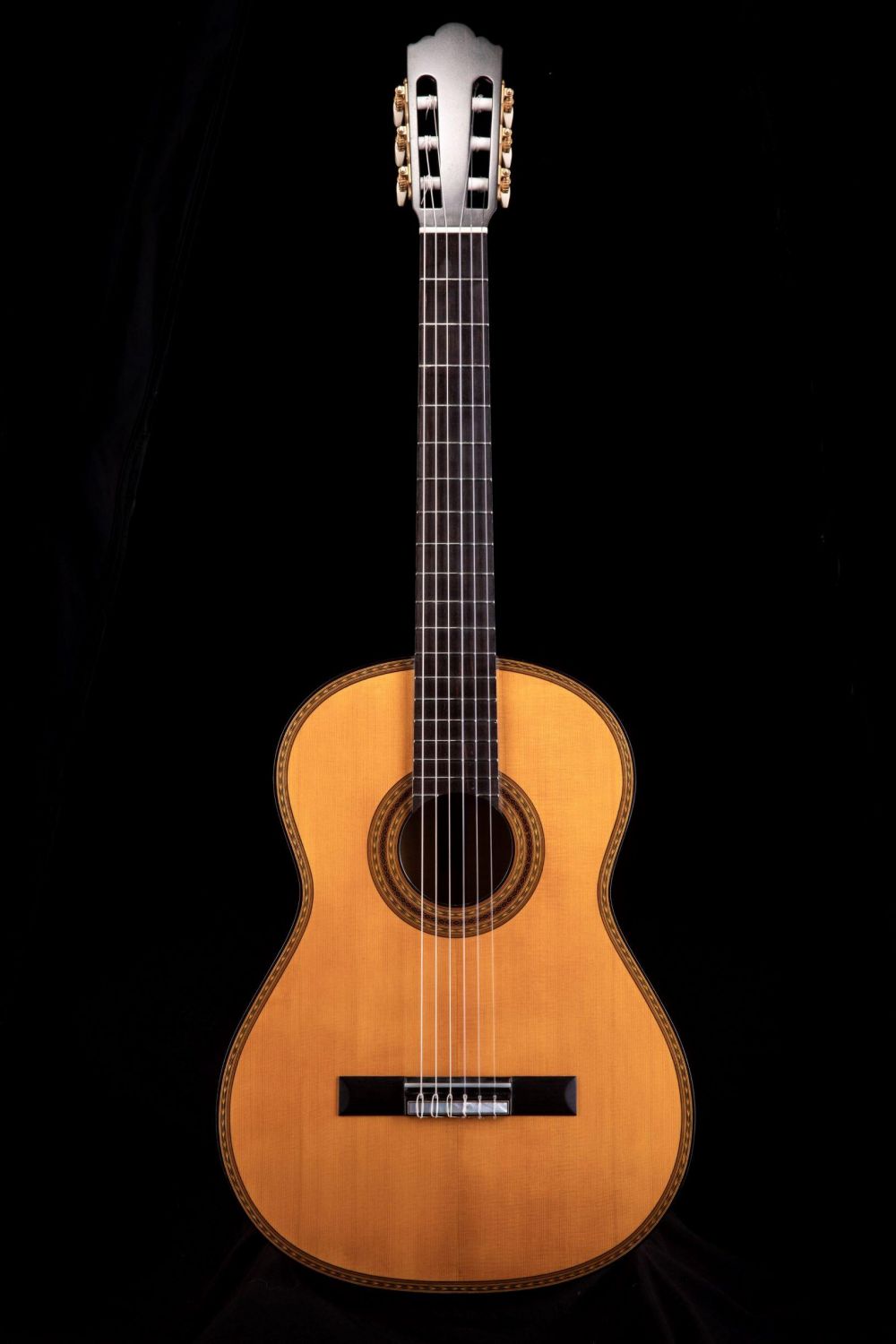 Details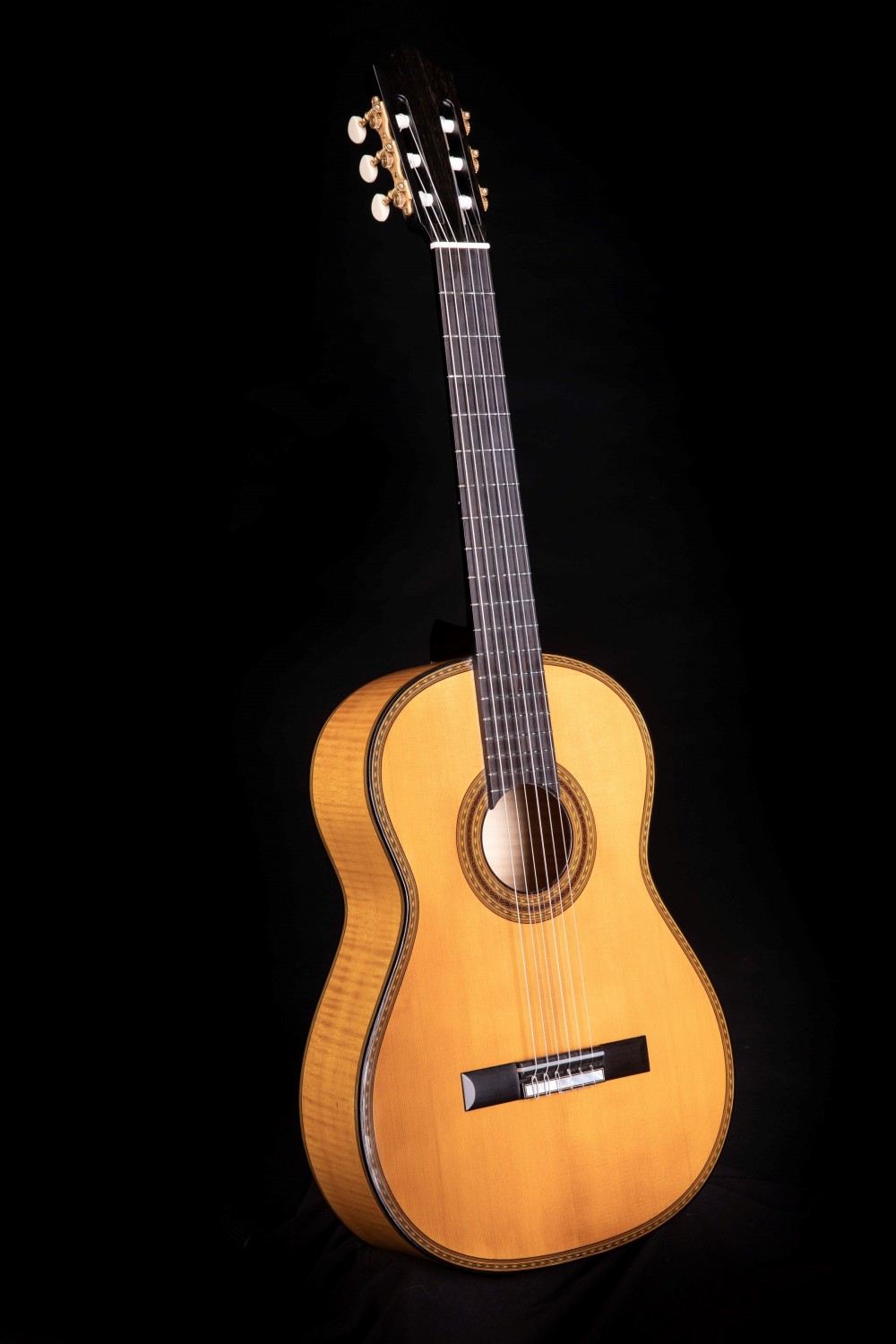 Materials

Soundboard: European Spruce
Back & Sides: Figured European Maple
Fingerboard: African Ebony
Bridge: Brazilian Rosewood
Tuners: Sloane
Finish: French Polish
Scale Length: 650 mm
Nut width: 52 mm
Custom Options
Back & Sides: Rosewood/Ceylon Satinwood/Figured Mahogany
Cases & tuners: Various options, please contact to discuss
Design
Hommage - The body shape & decorative style of this model was inspired by various guitars made in the early 20th century by Enrique Garcia, Francisco Simplicio and Ignacio Fleta.
Body shape - Rather than make an exact copy, this model is an original design derived from a few different instruments made in the 1920's & 30's. My design approach was to follow the important body dimensions and bracing pattern from past instruments and then redraft the curvature of the body shape.  This method creates a similar, yet unique shape that functions in a similar manner to the original instrument, whilst having an aesthetic identity of it's own.
Decorative style - The decorative style of this guitar model is achieved by combining simple lines of various colours, with handmade herringbone pattern & mosaic tiles to create the impression of an ornate and complex inlay pattern.  All of my inlay work is made from scratch in the workshop, starting out as thin sheets of coloured timber veneers which are planed by hand to various thicknesses to achieve a variety of bold & thin lines used throughout the inlay design.
Soundboard bracing pattern - Featuring a spruce soundboard with 8 fan bracing pattern underneath the soundboard.  This bracing system creates a guitar with a dark & intriguing tonal character, perfectly suited for intimate venue settings.
Barcelona model rosette made entirely by hand from coloured timber veneers
Materials
Best Grade - The materials used in making the master model are the best from my collection of tonewoods and have been aged as long as possible, some have been in my shop for over 20 years.  The difference is also in the decorative quality of the back & sides and the stiffness of the soundboard.
Soundboard - The spruce that I use for my guitars comes from Switzerland, Italy & Austria and is harvested from trees growing in high altitude forests.  Trees living in this type of environment grow slowly, putting on a very thin layer of growth per year.  This translates into a soundboard that is stiff and strong which means the membrane can be made thinner and more responsive whilst maintaining adequate structural integrity.
Back & sides - The maple comes from old growth trees sourced from well managed forests in Austria.  The trees are harvested manually in a traditional & sustainable manner, which uses little machinery and causes minimal impact to the surrounding forest. This maple comes in beautiful variations such as fiddle back, shell & birds eye figure as well as plainer pieces with low to moderate figure that are also very attractive.
Hardware & Case
As well as materials and decorative quality being of the highest standard, the tuners have also been upgraded to Sloane tuners on the master model, featuring a ball bearing end to the string post for smoothest tunability.  The case has also been upgraded from a standard hard case to a lighter version more suitable to flight.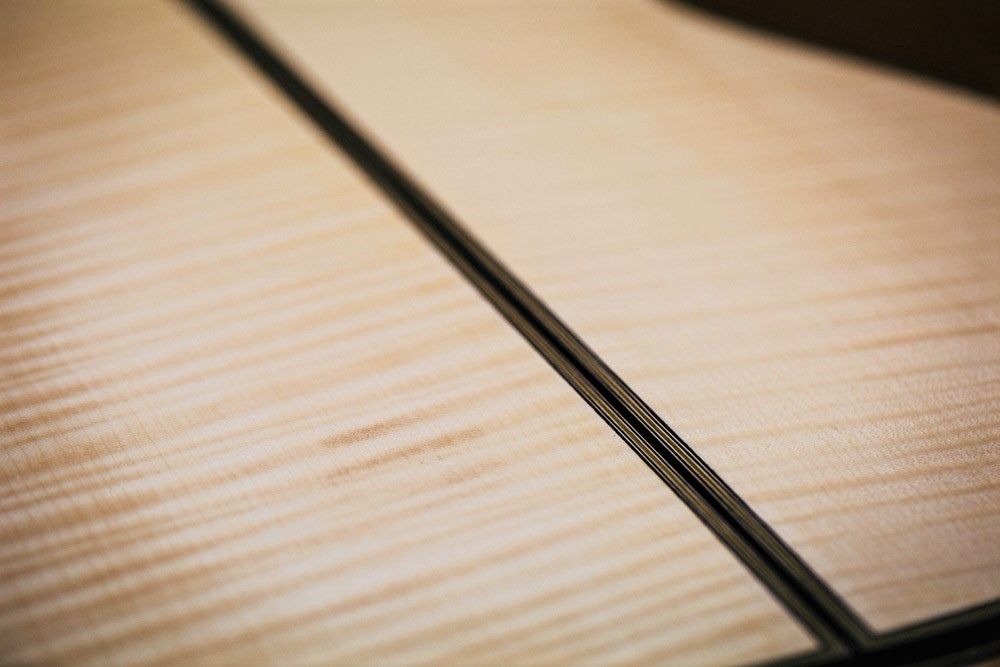 figured maple back and sides harvested from the Alpine meadows in Austria
Varnish
French polish is a technique that is used to apply spirit varnish in an extremely thin coat.  The varnish itself is made from shellac resin dissolved in alcohol and creates a super thin & flexible finish that has very low damping effect on the guitars sound.  Whilst a relatively delicate finish, French polish is very easy to repair and can be re polished at anytime to re invigorate the appearance of the guitar.
Making the 'Barcelona' model